Putting Out Your Own CD
By: Jerry A. Greene
Question: What is the best way to get your own cd out to the public?
Answer: Recording your own CD and getting it out to the public is no longer a difficult proposition. The resources and technology available to the independent musician now make it reasonable proposition to have their own indie CD release.
In the Studio
You can have a successful career as a recording musician and not even set foot in the studio. The technology available (like the Digidesign Pro Tools LE systems) make it extremely affoardable, and sometimes even preferable to spending tons of money to get your songs recorded. The recording studios know this and have had to lower their rates to compete with the home-studio market. For the top quality recordings, you still may want to shell out the big bucks. You may want to think of saving your studio dollars for the next part of the project (the mixing and mastering process) and record most of your tracks at home. Make sure that you record in the quietest environment with the best microphones that you can affoard.
The Mixing and Mastering Process
You are going to want to make sure that your songs are mixed and mastered properly. This takes an ear of a true professional if you really want your music to sound phenomenal. You can take your tracks (done at home on a home-studio) into a studio for this process. It is possible to learn how to mix and master your own music. You can hire out some of the best mixing and mastering engineers to do all of this subjective work with, or for you. Before selling your music, make sure it is the best it can be. Get the mixing and mastering done correctly.
CD Duplication
If you are looking to go the route of making your own retail-ready CD's, you will want to get one of the many cd duplication houses to duplication your cd's for you. A lot of them also offer mastering before printing. Just remember that you will also want to save some money for artwork (or again, do it yourself). The process is generally easy and can be done very quickly. When your CD is ready for duplication, you can have CD's ready for sale at your next show within a week in some cases. Check with the duplication houses for turnaround times. Through equipment financing you could get your own duplicator, but often this is not cost effective.
CD Release Party
Make sure that you have a CD release party once your CD is available for sale. It is a great way to connect with your fans and sell your first few copies! Make sure you notifity the local media. Try to get radio interviews and ask them to play a couple of tracks. Invite the entertainment writers from the local newspapers. Check to see if there are any music journals, that cover the local music scene and make sure you invite the staff to the party. Look anywhere and everywhere for places that may give you some good publicity. Consult the Indie Bible for more ideas.
Online and Retail Distribution
You have so many different options available to you when it comes to distribution. Most artists will start their distribution online with sites like CDBaby and iTunes (selling downloads). You can sell downloads from your own site with paypal. Once you start to get a buzz going, you may want to consider independent distributers for your music. This is normally the last step, since it is often the most expensive. You'll be hearing terms like "consignment" and signing contracts. Save this for when you have a strong following and limit it to those cities where you have the strongest fan base.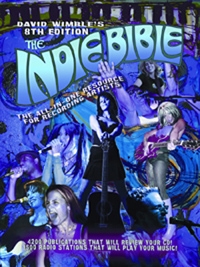 Getting Radio Airplay
You will want to do interviews and get your music heard on the radio. Internet radio has the most options available to you, although it is not impossible to get onto larger radio stations once you establish a name for yourself. You may want to consider purchasing and downloading the Indie Bible. This book gives you the resources you need to get your music reviewed and heard all around the world.
Selling Your CD at Your Shows
You'll definitely want to sell your CD at your shows. This is the single greatest chance you'll have to move product. Set up a table in the back of the room and let people know that it's there (remind them to sign up for your email list). Have someone back there at all times to make sales. You wont want to wait till the end, when a lot of people may have left.
A Secret to Selling a Lot of Music
Talk to your fans! Establish a relationship with them, if even only for a minute and ask them to support your band by purchasing your CD. Again, make sure they sign up for your mailing list and continue this relationship with them.It w ill mean a lot for your fans to get personalized emails after having spoken with you one-on-one. They will buy more products if you sincerely show your appreciation for their interest in your music.
Don't Forget Your Back Catalog
Just becuase you are releasing a new album, don't forget about your past recordings. Always have plenty of them available for sale next to your new CD.
Offering a discount for purchasing more than one is always a good idea. It helps you to make a little more profit and gives your fans something to enjoy for the rest of their lives.
Other Articles:
Artist Development
Songwriting
Music Publishing
Recording And Production
Music Theory And Eduction
Guitar Tips
Piano Tips